Relax with Reef Raider from NetEnt
Like sitting on a beach listening to a distant sandy tune, which comes closer as winnings start dropping in. Reef Raider from Netent was released in winter 2021 which is perhaps exactly what you need in the cold. You instantly become warmer and more relaxed stepping into this slot game.
Reef Raider from NetEnt consists of 7 rows and 7 Lines. Its winnings come from the Cluster Pays function with 5 or more symbols. The game uses an exciting "Treasure Trail" feature which the little crab progresses on as your cluster keeps paying off. Reef Raider is a high volatility slot which does make it slightly harder to progress on the "Treasure Trail". We´ll explain more in detail how this mechanic works further down. But the end goal is those Free Spins. Imagine a treasure map you need to finish to get to the treasure. Except you´re a crab!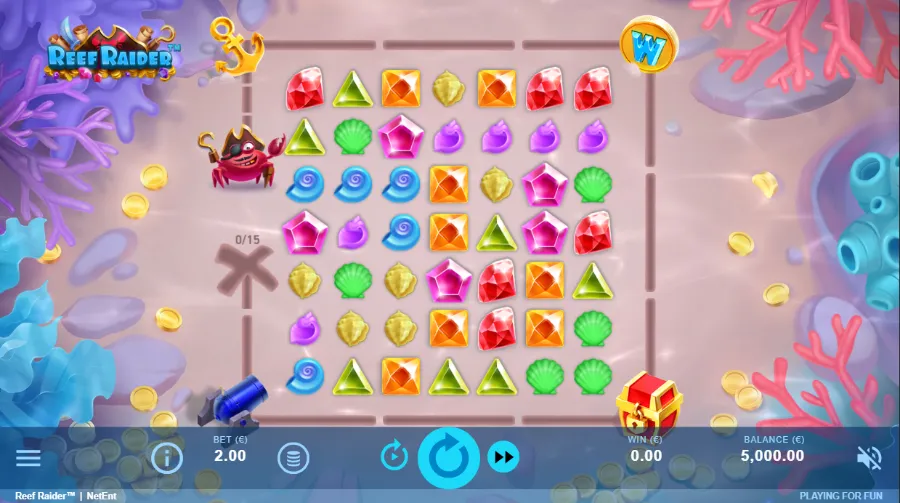 Theme and graphics in Reef Raider
In Reef Raider, the theme mentioned is a sandy shallow water paradise with a crab pirate to guide you to the treasures. Your symbols are laid out on the sandy bottom as shells and gems with the Treasure Trail going around the edge of the board. The setting is enhanced together with the distant and calm tropical tune in the background. The tune slowly gets closer as you start to win more and regresses as your winnings streaks start over.
The crab-like pirate with a hook will guide you around the Treasure Trail and give away its excitements as the treasures are hauled in. Netent shows a real comfortable and relaxing setting in their slot game Reef Raider. We have to give credit for the atmosphere NetEnt managed to create here!
Slot Symbols
Most symbols present in Reef Raider from NetEnt are available throughout the base game, some, of course, being less frequent than others. The main symbols consist of 8 different shaped shells and gems. Four being shells and classified as low win symbols and the other four being gems classified as medium win symbols.
And then we have some more exciting symbols that give you some other features:
Clam wild - The Clam wild substitute for a Wild Symbol and is consistent during the game rounds. as soon as a cluster pays out, the cluster disappears and generate a Clam Wild symbol randomly somewhere on the empty space. Once your generated Clam Wild Symbol is removed together with another winnings cluster, it will fill up a part of the "Treasure Trail" leading your crab on.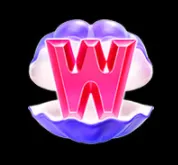 Wild Coin symbols - This symbol will appear once the Pirate crab reaches either the Random Wild feature or the Cannon Blast. Both these features are found on the "Treasure Trail" path. This symbol substitutes for all symbols except the Multiplier symbol.
Multipliers - The Multiplier symbol in Reef Raiders is very straightforward. If it´s included in a winnings cluster, it will multiply the winnings for that cluster by its value. The value of the multiplier can be one of the following: x2, x3, x5 or x50.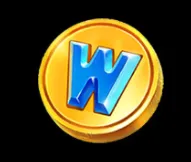 Now that´s all the symbols you can find laying around on the game board in this slot game from NetEnt. Let´s have a look at the different features giving you more of a chance to trigger the cluster wins in Reef Raider!
Features in Reef Raider
Free spins mode is the main bonus feature in Reef Raiders. To reach the free spins mode, you need to fill out the "Treasure Trail". You can find the "Treasure Trail" all along the edges of the game board. This is the main mechanic in the game to receive bonus features, and ultimately, to reach the sought after free spins!
Treasure trail feature
Each time a "Clam wild!" is removed from a cluster win in Reef Raider, the clam will fill up a part of the "Treasure Trail". It will reset every time you spin. This means you need to get consecutive cluster wins that also consist of "Clam Wilds" to reach the end. This means a lot of wins in a row is needed in Reef Raider! But here NetEnt gives you some help on the way.
Along the trail, you´ll find different bonus features that will activate wilds or remove certain symbols from the board. This will make it partly easier to get more winning clusters. Let us go through the different bonus features on the "Treasure Trail" in Reef Raider.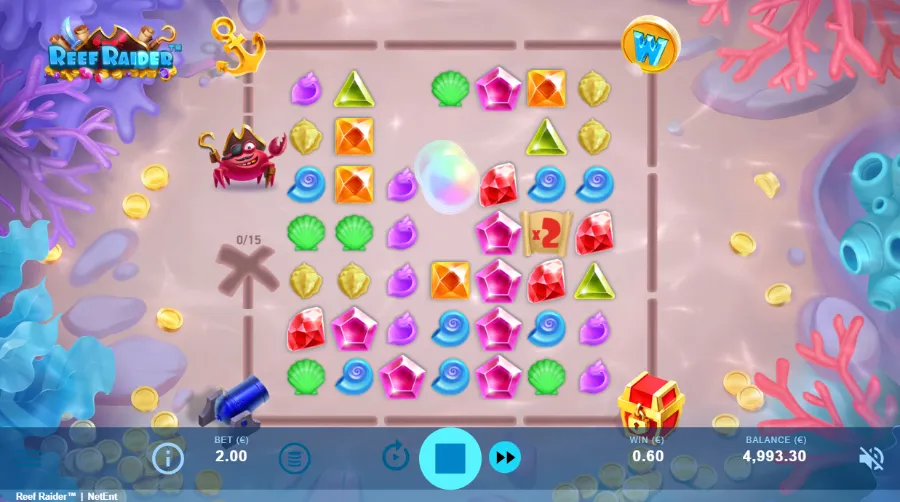 Anchor drop feature - This is the first feature you´ll encounter and you need three "Clam Wilds" to reach it. 1-3 random low win symbols will be removed from the reels, this will trigger a new symbol drop and your chances of cluster wins has increased.
Random wild feature - The second bonus feature is the random wilds, this one will activate after 6 "Clam Wilds". 4-8 "Wild Coins" will drop randomly on the reels increasing your chance of cluster wins.
Mystery chest feature - Once you´ve reached 6 "Clam Wilds" you have reached the mystery chest feature. Here 2-16 both low and medium win symbols will be replaced by mystery chests. Once they are revealed, your chances of cluster wins are imminent.
Cannon blast feature - Reaching 12 "Clam Wilds" gives you the "Cannon blast". This feature blasts away a random symbol on the reels along with all symbols on the same column and row. The only symbols not removed from the blast on the affected column and row are the bonus symbols. Such symbols as Clam wilds, Wild Coins and Multipliers.
Free Spins Mode in Reel Raider from NetEnt
At end of the "Treasure Trail" in Reef Raider, after 15 "Clam Wilds" have been collected. This is when you´ll be awarded free spins and enter a Mystery Overlay. Let´s go through this mode step by step:
Ways to get extra free spins:
Every 3 Clam Wilds collected on top of the 15 collected to initiate the free spins give 2 additional free spins
In free spins mode, every 3 Clam Wilds collected give 1 free spin
15 Clam WIlds collected give 1 free spin
Mystery overlay:
This feature simply resets the Treasure Trail to give you the chance of getting extra bonus features and extra free spins
Mystery symbols:
Here is where you need to be lucky, the more you accumulate, the bigger your wins will get.
You start off with an initial cluster of Mystery symbols in the middle which will stay there for each free spin.
For every free spin, these Mystery symbols will give you one random symbol resulting in one guaranteed winning cluster.
There is a chance that more Mystery Symbols will land on the reels. should they land and connect lateral or horizontally with any Mystery Symbols in the middle, then they will stay there.
This can result in a huge cluster of Mystery Symbols that will guarantee a big win every round!
What we think
At the time of writing, Reef Raider from Netent is still a new slot game and popularity is hard to come by amongst so many titles today. We cannot deem as of yet should this be one of the classics or not. But from trying Reef Raiders ourselves we find it is well made with a good balance of bonus features always nudging you along. Never giving you too much, but with its volatility, have the possibility to give a lot. That could be a recipe for progress amongst online slots.
If you do like those cute slot games with a relaxing tune in the background. Then Netent has hit the right spot for you with Reef Raider. Even though this slot game doesn't have any unique feature, cluster wins are always welcome as something out of the ordinary, if it´s made right. We would certainly recommend giving Reef Raider from Netent a try at least!
To see more of our slot reviews click here