Unique playing field in lucky streaks from 1x1 Gaming
Lucky streaks is a new slot game from 1x1 Gaming, this machine features a bit of a different playing field than normal slot games. Instead of one reel, you have 10 single line reels you can win simultaneously on. When you hit that spin button all the reels will start spinning to reveal how many perfect matches you got. You need to get three matching symbols on one line so get a winning line.
The main feature in this new casino slot is the jackpot mode which can be entered through consecutive wins. In this mode, the casino slot is far more volatile and extra high paying symbols are added, we´ll explain more further down. In the normal game mode, Lucky streaks slot is fairly low volatile with lots of smaller wins, Luckily it's fairly easy-going into the jackpot mode.
Max winning in this casino slot is x1000 your bet on one reel, it's unsure if you can get this symbol match on all the reels at the same time. Either way, with a max bet of 50 Eur you have a chance to a pretty large win.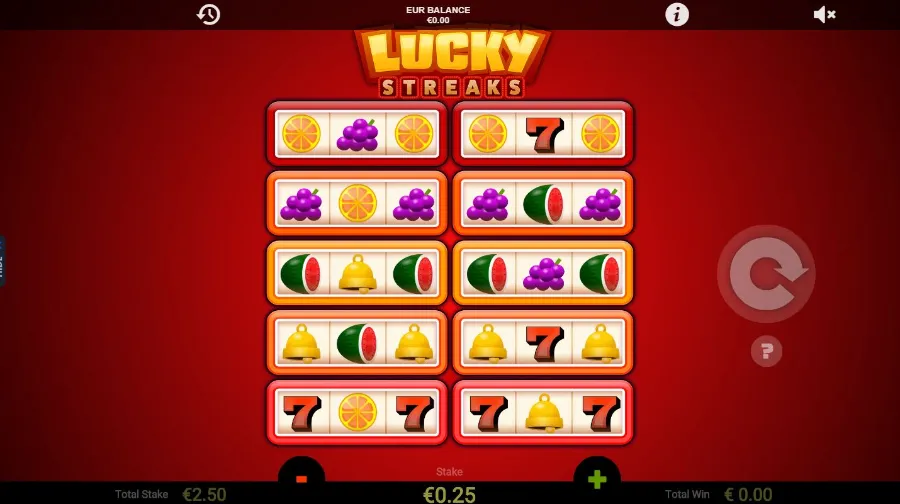 Theme and graphics
The design of Lucky streaks is fairly simple with a solid colour background. The only movement in the slot is the reels and the occasional winning screens. The simplistic design does, however, put harmony to Lucky streaks slot game with the happy tune they´ve added. it's designed as a classic slot in many aspects.
However, If you like sexy voices while you play, this is definitely the game for you. To announce your well done on your winnings you will get the occasional "Nice" and "Get in". this little extra feature does make the little extra touch if that's what you fancy.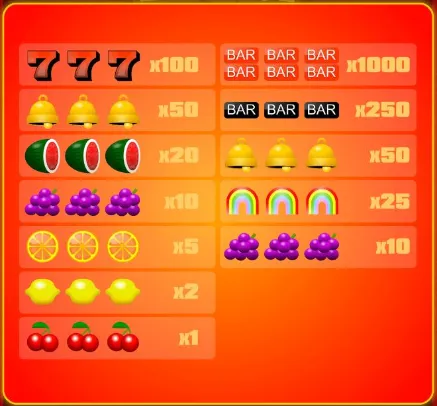 Slot Symbols
Lucky streaks come with 12 slot symbols with only 10 showing in the normal rounds. The two extra symbols being a bar and a double bar only shows in the jackpot mode and have a payout of x250 and x1000 your bet size.
The lower paying symbols shows classic symbols such as cherries, grapes, bells and seven among others. Within these symbols, the highest paying is the seven which gives you x100 your bet. Then there also is a Rainbow slot symbol, even though this is a low paying symbol, in the jackpot mode it resets how many spins you have left
Features
The only feature in Lucky Streaks is the jackpot mode, and it cannot really be called a bonus feature as you still have to pay bets per spin. What the feature does is adding two high paying symbols making the slot far more volatile than it was before. Luckily it's really easy to get the winning streaks to enter the jackpot mode!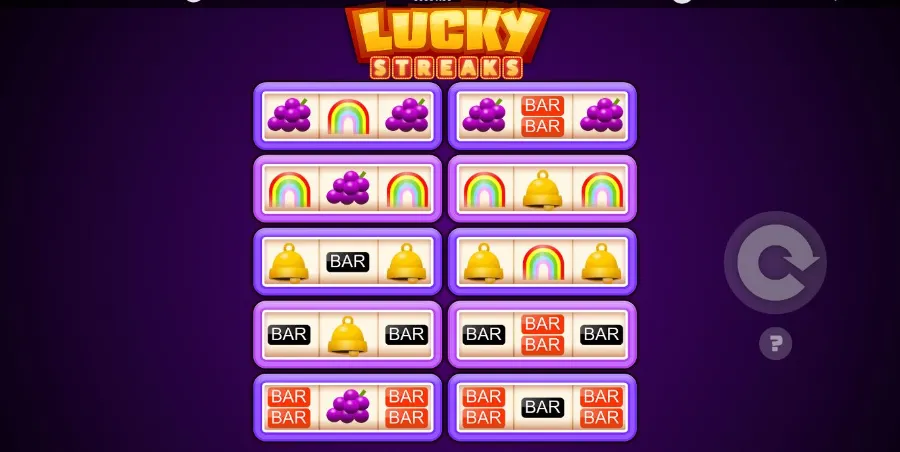 How do you get to the Jackpot mode in Lucky Streaks:
To get to the jackpot mode in Lucky Streaks you have to get seven consecutive wins in a row. It doesn't count if you get several wins per spin, you have to have winnings on 7 spins in total. Each winning spin will fill in the "STREAKS" counter at the top.
Once in the jackpot mode, you have 7 spins equal to the number of letters in "STREAKS" as the letters in the top will count down your spins. you can reset the spins in Lucky streaks. Get three rainbows in any winning line to reset the spins back to seven.
What we think
Lucky Streaks might seem a bit featureless and it doesn't actually have any real bonus round. They do however make up for it with a volatile jackpot mode where you can win a lot. The design is even though simplistic very well put together, the additional sexy female voice is a nice touch. Lucky Streaks is a casino slot worth checking out.