Crush the ice in Ice wolf from Elk Studios
Ice wolf from Elk studios gives you a chance to climb the Ice Wolf Peak by crushing the ice in your way, to finally reach those bonus symbols.
This slot game gives you 6 reels with up to 7 rows which you will reach by getting win lines that crushed the ice locking your extra reels in place. Crushing all the lines gives you up to 74 088 win lines to match symbols on.
With a maximum of 250 000 coins to win, with 100 coins per bet and a maximum of 100 euro per bet, maximum winnings are 250 000 Euro.
The main feature in Ice Wolf from Elk studios is their expanding reels which makes it possible to increase the winnings lines. We will explain more about this feature further down, keep reading to learn more.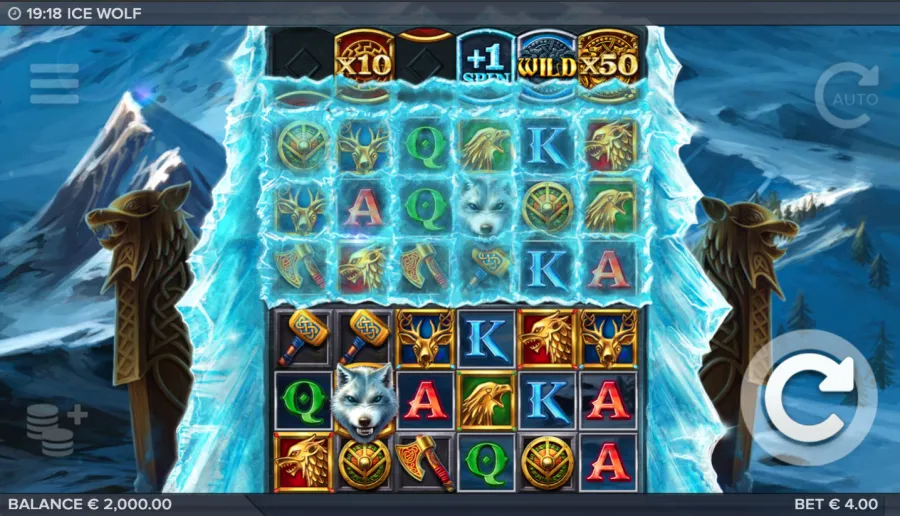 Theme and graphics
If you didn't guess it yet, the theme of this casino slot is ice and wolfs. You are set to make your way up to Ice Wolf peak which is covered by a hold of ice. This is a challenge you´ve never encountered before and you can only hope you can invoke the help of your wolf guardian to shatter the ice.
Behind the view of the ice field reels, you see mountains covering the distance with the sun glaring down the peaks.
Showing of small scenes of wolves running on the reels and ice shattering, there isn't any huge graphical scene that takes over. Ice Wolf is created with a mix of great design and motion.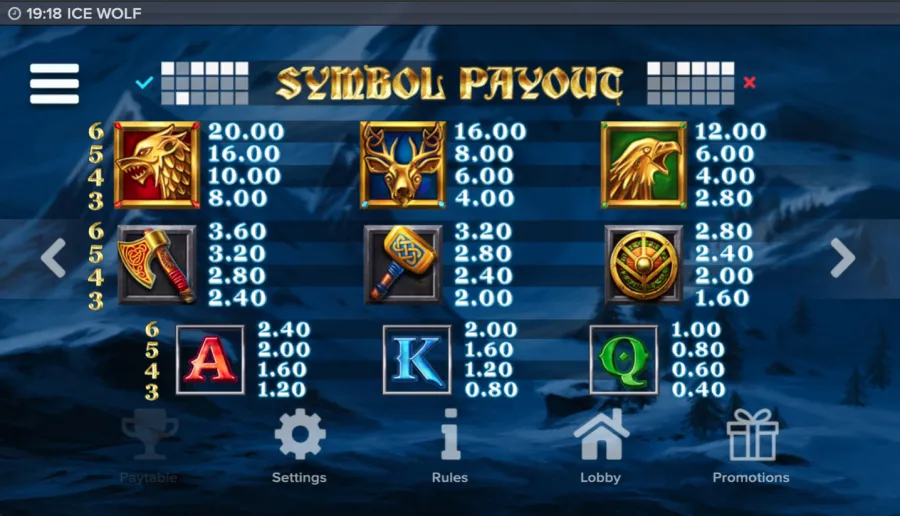 Normal Symbols
The 3 high paying symbols in Ice wolf consist of a portrait in gold of a wolf, a deer and an eagle. These symbols don't pay incredibly much with only x5, x4 and x3 from 6 winning symbols with the highest paying symbol. However, when you have a chance of 74088 winnings lines the table turns completely.
Aside from the three highest paying symbols, there are 6 low paying symbols. These symbols drop in value to x0.9, x0.8, x0.7, x0.6, x0.5, x0.25. This means you won't get back your bet should you only get a winnings line of 6 with either of these symbols. Luckily they are more frequent and chances of getting multiple winning lines with these symbols are extremely high.
Bonus features in Ice Wolf
This is where we talk about the heart of the slot game and how to win big in Ice wolf. The main feature in this casino game is the expanding reels, which start out with 729 win-lines and end with 74 088 win-lines.
Expanding reels
To make this more understandable, the reels in Ice Wolf are divided into three different sections. The lower part is the starting reels, the middle part is a frozen section, and the top single reel is where all the goodie symbols are dropping, they are also sticky.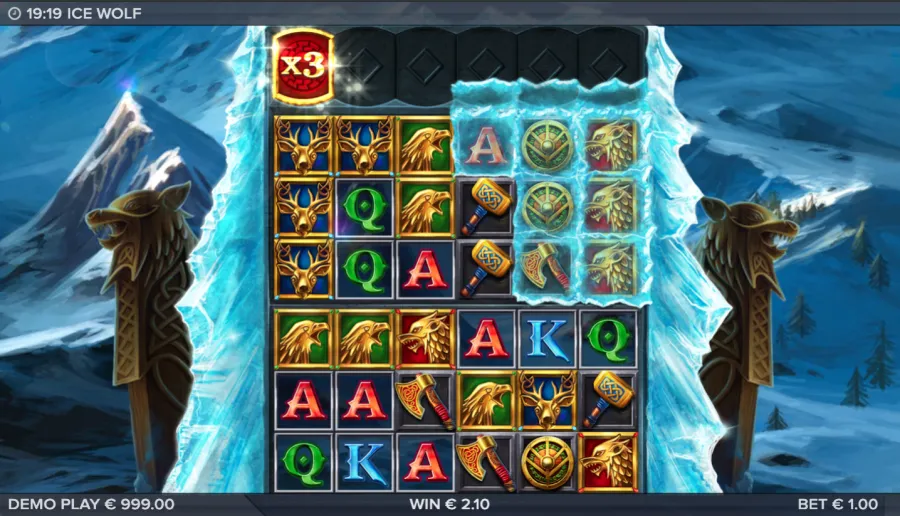 To break the ice
To break the ice and unlock the top reel you need to get winnings combinations. For each winnings combination, the ice above each winning symbol will break. If you´re lucky and get two winnings lines, you´ll break two ice sections.
For every winnings line, you also get a respin until there are no more wins.
This means while having consecutive wins the top row will collect sticky symbols. So once you break the ice and reach the top row, you will unlock the special symbols collected there.
Special symbols in Ice Wolf
There are four different special symbols whereas only one of them is unlockable below the ice. All the others are sticky symbols above the ice.
Ice Wolf Symbol
The Ice Wolf symbol only drops below the ice. Wherever this symbol lands, a wolfpack spawns and rushes toward the top reel breaking the ice in it's a path on the column. Behind the Ice Wolf symbol Wilds spawns as well, increasing your chance of getting more winnings lines.

Multipliers
These only drops in the top row and while having consecutive wins they will stick until there are no more wins. To active them, you need to reach the top and once activated they will add their multiplier regardless of which column they are in.


Wilds
The Wild symbols in Ice wolf are also dropped in the top row with a sticky feature as long as you have consecutive wins. They also spawn behind the Ice Wolf Pack.

+1 spin
The last symbol is the +1 spin which gives you an extra spin once you run out of winning lines. This symbols only drops in the top row.

What we think
This slot game does not have any bonus rounds which his always a bit worrying considering the game might get boring for thrill-seekers. However, Elk Studios have made Ice Wolf with its own thrill in the expanding wheels and a treasure once you reach the peak. The graphics and scenery are also out of the ordinary with serene and magnificent design without adding too much. We recommend you to try out Ice Wolf!