Collect your honey with Honey Rush from Play´n GO
Honey Rush is a casino slot created with a unique symbol grid formed as a hexagon, this game board style gives you 37 spaces for slots symbols. To get winnings you then need to match the slot symbols in clusters of 5 or more. Once you get a winnings cluster the symbols in the cluster will be replaced by symbols from above. This continues until you don't get any more clusters.
In Honey Rush casino slot, the main feature is the Rush meter. For every win, you´ll increase the meter which will give you bonus events once you'll run out of wins. We will explain more about this feature further down.
The makers behind Honey Rush is Play´n Go with their release date late 2019. Due to the avalanche feature in this slot game, the maximum winnings is 9000 times your bet size.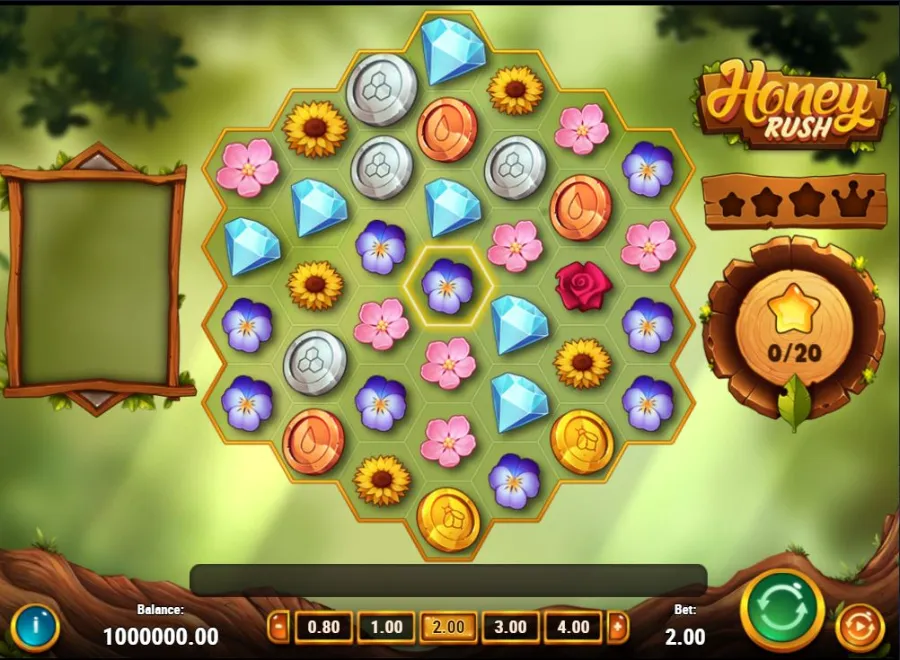 Theme and graphics
In Honey Rush, it's all about calm and cute with bird songs in the background and warm colours. In the background, we can see falling leaves and a cover of green foliage. Even though winter is approaching we cannot more than agree this is a great casino slot to lift the mood before for winter.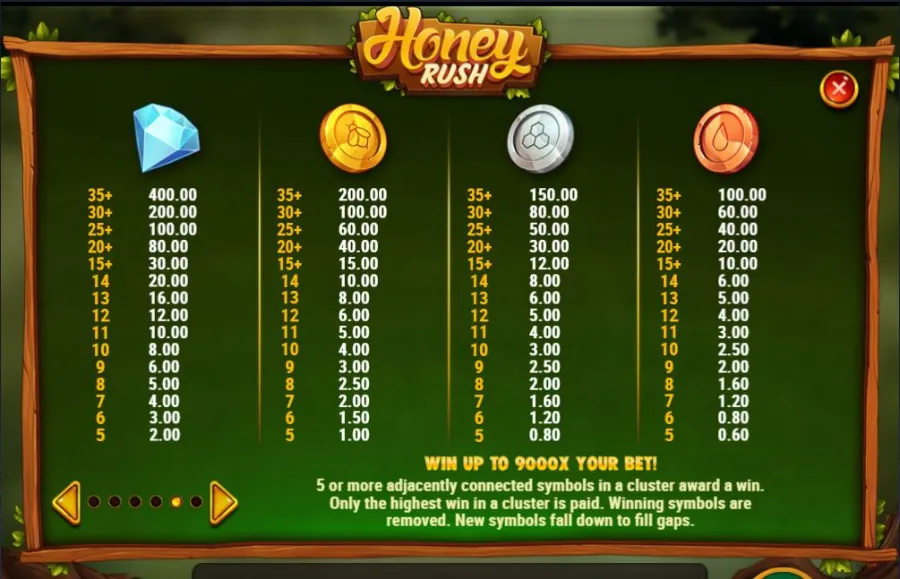 Symbols
Even though it might be a bit out of place in the setting the highest paying symbol i a diamond. After that, we have three coins in various alloys, lastly four different flowers fitting the theme of this slot game.
All the symbols have fifteen different payout levels depending on the size of their clusters. Maximum cluster payout for any symbol is 35+ where the maximum symbol on the playing field is 37.
Features in Honey Rush
The main feature is the Rush Meter in Honey Rush - For each consecutive winning the Rush Meter will fill up with a star. Once no more winnings can be made each star from the Rush Meter will give you one bonus feature.
Level 1-3 - Gives you the Drone Colony + one sticky wild. The Drone Colony copy the symbol in the middle to create a minimum of 7 symbols from the same in a cluster.
Level 4 - Gives you the Queen Colony which will also copy the symbol in the middle to create a cluster of 20-37 symbols.
What we think
Honey Rush is a quite simple casino slot game but created with experience, it's more than apparent it´s Play´n Go behind this creation. The play style quite harmonious with a steady stream of features. If you´re not looking for anything too hectic but still not utterly boring, this has the perfect mix for you. Honey Rush also has the potential for big winnings should you get the right combination clusters in a row together with the bonus features. We recommend any casino players to give Honey Rush from Play´n Go a try!