The search for Gigantoonz with Play'N GO
The search for Reactoonz has finally given us Gigantoonz from Play'N GO. As this game series keeps on going the innovation keeps surprising us with new cool features. This slot game from Play'N GO is now the fourth slot game in the Reactoonz series. This time the new Gigantoonz is introduced with its brand new bonus game.
Gigantoonz was released in January of 2022 and is built on an 8x8 grid with a cluster payout type of wins. The maximum win in this casino game is 4000x your bet and is set to the highest volatility. This makes it hard to hit those wins, but once you get them, they won't stop!
The main feature of Gigantoonz is of course the Gigantoonz bonus game you'll hit with 100 symbols in total in cluster wins in a row. Making it not quite so easy to hit, but you'll have help on the way with the Quantumeter giving you different bonus features on the way. We'll explain more further down, keep reading to see how it all works…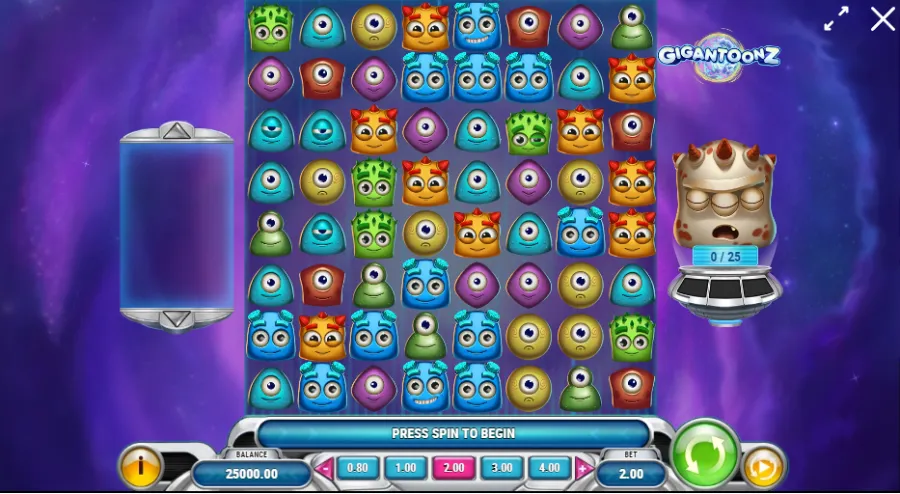 Theme and graphics
From the accidental creation of Reactoonz from Dr Toonz search for a new energy source, the Reactoonz have now kept growing. This has led to Gigantoonz entering the picture and now also their leader Gargantoon. Which we will experience in this slot game Gigantoonz from Play'N GO.
The slot game is set in space, of course. There is some sort of nebula or other in the background where the 8x8 grid is placed. With the space music ticking on you keep hearing the Reactoons squabbling occasionally in the background to give you a certain feeling of the slot game.
Each Reaction has its own animation and expression in this colourful and bubbly slot game giving it a more characteristic approach.
Symbols
There are in total 12 symbols in Gigantoonz from Play'N GO including the main bonus game together with wilds. As this might seem a lot, the grid is quite big and clusters win, so wins can come from any direction. As long as there are six or more symbols in a cluster a win will pay out.
The Reactoonz
The filling symbols of the main game consist of 10 colourful Reactoonz in different colours. With the feature Gigantoonz, these symbols will also come in different sizes of maximum up to 7x7 grid size.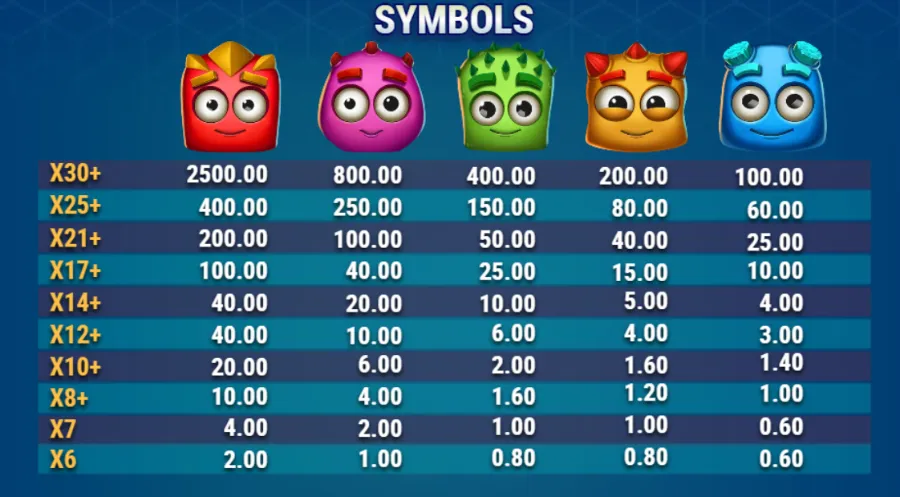 The normal symbols with highest payout, the pictures numbers resembles a 2 euro bet
The Wilds
There aren't many different symbols other than the main ones and two other wilds. One of the wilds will be present during the main game, and the other only during the bonus game.
Quantum Wilds - These ones can be added randomly during any non-winning round, you'll then get from 5 to 10 of these wilds. They are also present on some of the bonus games, we'll talk about those further down.
Gargantoon Wilds - These big boys only show themselves during the last stage of the Quantumeter bonus game. We'll soon get to that.
Features in Gigantoonz
There are three different features to look out for when playing Gigantoonz. Let's go through them one by one.
Quantum Wilds
As we mentioned above, during any non-winning round, you can get 5-10 Quantum wilds to appear randomly. This will increase your chances of winning substantially.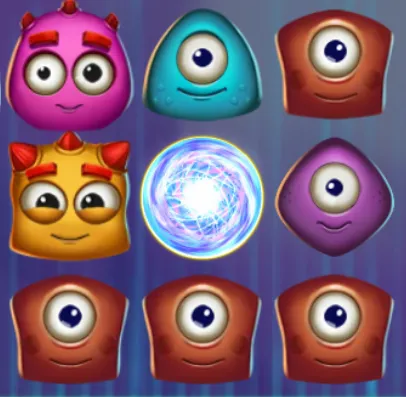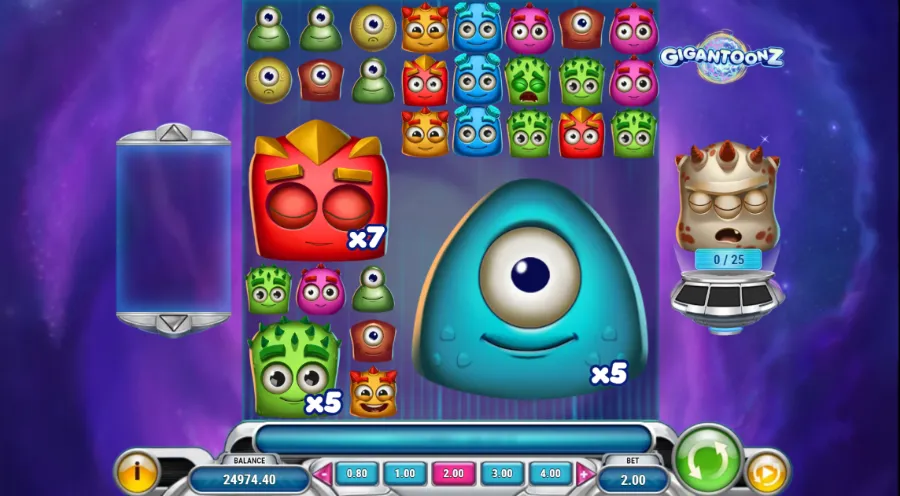 Mega symbols
What's more unique with this new Gigantoonz game from Play'N GO is the mega symbols. These can appear anytime during the main game and the bonus rounds. They vary in the sizes 2x2, 3x3, 4x4, 5x5, 6x6 and 7x7 having them fill up more than 75% of the grid. However, they don't count for more than 1 symbol when determining a winning cluster. What they DO, do, is give you a multiplier to the winning cluster they inhabit. The multiplier can go as high as x13. They also add their cluster value to the payout of the cluster win, so they are not so bad after all. But there is more, any mega symbol will leave a Quantum Wild behind when it's been in a winning cluster.
The Quantumeter
Now we come to the heart of Gigantoonz and where we meet the boss of the Reactoonz, the Gargantoonz.
The Quantumeter to the right of the grid will fill up by one with each winning symbol in any winning cluster. The meter will have four stages that release different bonus features to help you on the way. When there are no more winning clusters, the charged features will start to trigger one by one. The Quantumeter will deactivate once there are no more cluster wins, at which point it will reset. Should you instead hit a 100 charge, this is when you'll meet the Gargantoonz!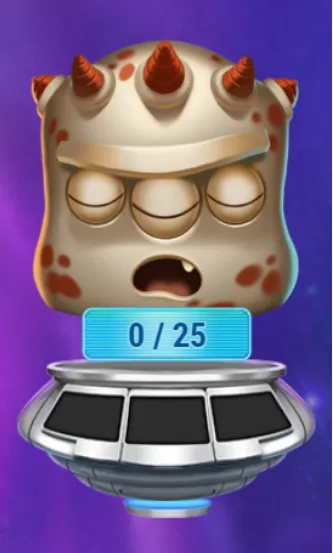 The different stages
The first stage is 25 charges, this calls for the Disintegration. Here all instances of 4 randomly chosen symbols will be removed from the grid, leaving space for new symbols to cascade down.
The second stage is 50 charges, this calls for Metamorphosis. Here one symbol will be chosen and transformed all instances of that symbol into a different symbol. All random of course.
The third stage is at 75 charges, this calls for Radiation. Here 0-4 mega symbols will be added along with 2-5 Quantum wilds. This is also random.
The last stage is at 100 charges, this calls for the Gargantoonz. This charge is played out in two stages. The first stage transforms all mega symbols into Gargantoonz. You will always get at least 3 mega Gargantoonz regardless of how many mega symbols you have. Additionally, 2-4 small Gargantoonz will appear. The Gargantoonz will stay after the winning clusters have been calculated. They will then all transform into 1x1 Gargantoonz and give another series of winning clusters. Once all the clusters are calculated the Gargantoonz will be removed completely and the rounds will go back to normal. This can, as you see, cause a lot of winnings.
What we think
What we at Casinosquire like about this game is the consistency and streamlining of the game. You can always be surprised by some or another bonus feature. There is not one big bonus round, but several small ones leading up to a potentially huge win.
All the Reactoonz slot games from Play'N GO have of course been a hit, they haven't either changed radically. But with small but crucial changes making the game just enough exciting on its own.
The theme is cute and bubbly with a cool space theme rounding up the edges of the theme. If you do like a somewhat storyline slot game, we suggest you try out the previous slot games Reactoonz, Reactoonz 2 and Dr Toonz as well.
With the new feature of Mega symbols, Gigantoonz from Play'N GO surely makes for unique gameplay different from the other games. If nothing else we at Casinosquire do recommend you to try this slot game out!