Black Friday Online Slot Tournaments
What better way to spin your slots games than participating in a tournament. We`ve had a look at a couple of tournaments going live or already live this week. This makes it easier for you to just pick one of our favourites than having to look for a good one yourself. Playing in a tournament is also a great way to try new slot games out, as there are so many out there, it can be hard to choose sometimes.
How does a slot tournament work
The rules of a slot tournament vary a lot depending on what online casino you are playing at. However, there are some rough guidelines most casinos follow when making a tournament.
Collecting points in a tournament
When it comes to most slot games, the goal is to collect points from either bet made or wins made. When you need to make bets to collect points it's fairly straightforward, for every x bet made, you´ll get x points in the tournaments.
On the other hand, when your wins count toward the points, it's not always as straightforward, or just a case of adding your winnings together. Remember, your balance doesn't always tell the truth as you both win and lose constantly. Either every x win counts toward x points, or a win ratio is determining which position you get, the highest win ratio first.
You will in most cases see your points in the tournament somewhere on your account or on the slot tournament page. In some cases when the casino put some effort into the programming, you´ll have your total points ready at hand in the slot game.
Slot game restrictions
There are most times a set number of slot games that count toward your points in the slot tournament. These can be found in the rules or on the slot tournament page.
Let us have a look at a bunch of tournaments to have a lookout for this week.

Vulkan Vegas Black Friday Tournament
What else to call your upon this weekend than black Friday itself, this is of course Vulkan Vegas idea at least. Vulkan Vegas made sure to spice up their prize pool from their regular slot tournaments in this one. However, this tournament has already started, so hurry up if you want to make it in the leaderboard.
Start date: 22 November
End date: 28 November at 23:59
Prize pool: €30 000
Positions: 20
First three positions:
1. €7,500
2. €4,800
3. €3,600
Requirements: In this tournament, your wins will count toward the leaderboard. For every 1 Eur win, you'll get 1 point. But first of all, you need to go to the slot tournament page and press "Participate". Then you need to make the 10 qualification spins in any of the slot games for this tournament. After this, you're all set to go!
Go to Vulkan Vegas Or check Vulkan Vegas review Out!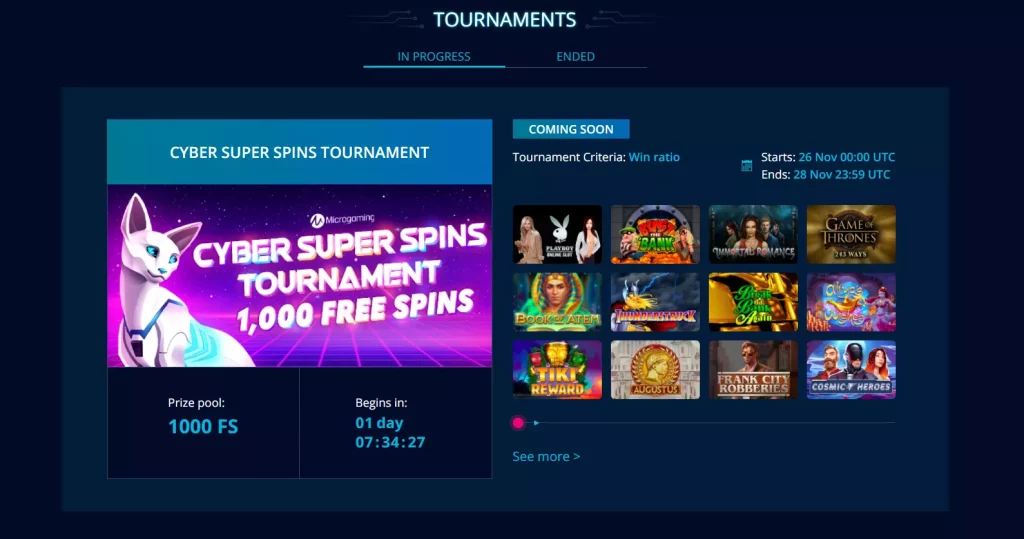 Mr Bit Cyber Super Spins Tournament
Here is a slightly smaller scale slot tournament, but still as interesting. The small the tournament, the bigger chance you´ll have fewer contestants, and a bigger chance you´ll join the leaderboard. In this slot tournament at Mr Bit, the prize pool is filled with free spin instead of cash prizes. The free spins vary in value but start off with €1 per spin for positions 1-5.
Instead of ranking the leaderboard by points, in the Cyber Super Spins Tournament at Mr Bit the leaderboard is ranked by win ratio. This means they divide your win for each spin you make with the bet size you had. Then a Win Ratio is calculated. Out of every spin you make, your biggest win ratio is entered into the leaderboard if it´s big enough.
The theme at Mr Bit online casino is all about Microgaming. You will find a chosen few games from their microgame library which you are able to play in this tournament. All you need to do to participate is make bets of a minimum of €0.40 in any of the eligible games of this tournament.
Start date: 26 of November at 00:00 UTC
End date: 28 of November at 23:59 UTC
Prize pool: 1000 Free Spins
Positions: 50
First three positions:
1. 100 Free Spins
2. 80 Free Spins
3. 70 Free Spins
Go to MrBIt or check MrBit Review out!

Spinia Slot Race Every Day
The next race we´re having a look at is a daily race with the same prizes every day. The total amount of prizes in this daily race at Spinia online casino per month is €60,000. This surely sounds like a bonus excitement for a daily player to always have a slot race at hand. You´re automatically participating in the race as long as you´re playing any of their slot games. So basically all you need to do is play at Spinia casino.
The points on the leaderboard in this slot tournament are collected by the sizes of bets you make. For every 1 Eur bet you make, one point is awarded for your position on the leaderboard.
Start date: 1 race per day
Prize pool: 2,000 Eur + 2000 Free Spins
Positions: 100
First three positions:
1. 500 Eur
2. 250 Eur
3. 150 Eur
Go to Spinia or check their review out here
Try these online casinos:
---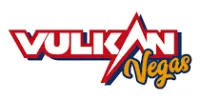 100% up to 300 Euro + 25 free spins in Book of Dead
18+ | T&C´s Apply | New Customers Only | Play responsibly | Begambleaware
---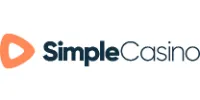 100% up to 200 Euro + 30 free spins on first deposit
18+ | T&C´s Apply | New Customers Only | Play responsibly | Begambleaware
---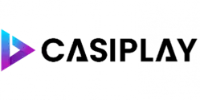 100% up to 200 Euro + 30 free spins on first deposit
18+ | T&C´s Apply | New Customers Only | Play responsibly | Begambleaware
---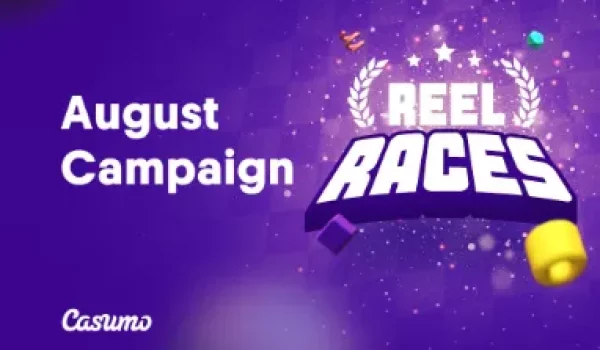 We at Casinosquire have the opportunity to get you first-hand information on…